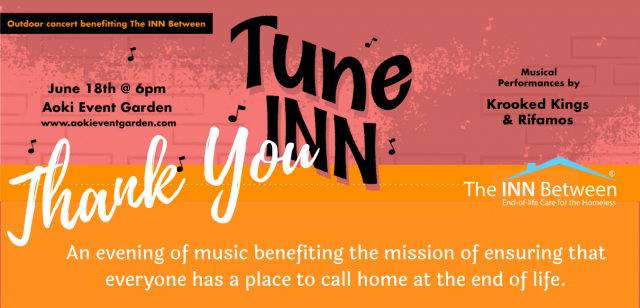 One month ago, we held our first in-person fundraising event since COVID hit, and let us say, thank you to everyone for a wonderful evening.
As many of us of are navigating life mid/post-pandemic, The INN Between too was charting our return to a new normal. For so long, we were adhered to strict COVID restrictions and little by little, we have been able to resume to a robust program full of the many supports that our staff, volunteers, and supporters bring. We have brought back many of our work-from-home staff, volunteers have returned, visitors are welcomed among our residents, and so much more…not to mention our awesome events.
By bringing together the community at events such as Tune INN, we are afforded the opportunity to share this important humanitarian mission occurring in your community. Events allow us to have conversations with patrons about who we are and what it means when we say that at The INN Between, no one dies alone. How critical having a bed in a home is for residents undergoing cancer treatments. How forgiveness, acceptance, and dignity are central to our core values. It truly is the conversations that matter and we were beyond blown away by the excitement and genuine interest in the work being done at The INN Between.
Together, we ensure that everyone has a place to call home at the end of life.
We raised $10,000 because of all of you.
Thank you to our sponsors and entertainment!