The INN Between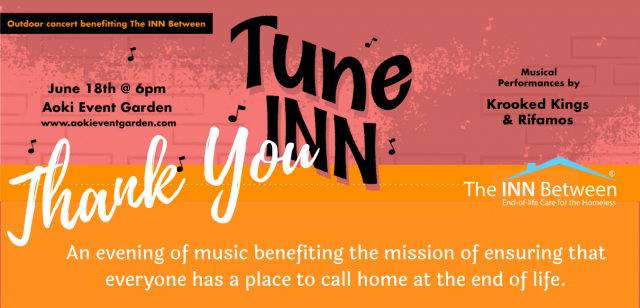 One month ago, we held our first in-person fundraising event since COVID hit, and let us say, thank you to everyone for a wonderful evening.
As many of us of are navigating life mid/post-pandemic, The INN Between too was charting our return to a new normal. For so long, we were adhered to strict COVID restrictions and little by little, we have been able to resume to a robust program full of the many supports that our staff, volunteers, and supporters bring. We have brought back many of our work-from-home staff, volunteers have returned, visitors are welcomed among our residents, and so much more…not to mention our awesome events.
By bringing together the community at events such as Tune INN, we are afforded the opportunity to share this important humanitarian mission occurring in your community. Events allow us to have conversations with patrons about who we are and what it means when we say that at The INN Between, no one dies alone. How critical having a bed in a home is for residents undergoing cancer treatments. How forgiveness, acceptance, and dignity are central to our core values. It truly is the conversations that matter and we were beyond blown away by the excitement and genuine interest in the work being done at The INN Between.
Together, we ensure that everyone has a place to call home at the end of life.
We raised $10,000 because of all of you.
Thank you to our sponsors and entertainment!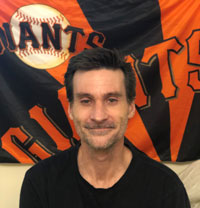 Three years ago, Ken, a blind man, was in desperate need of assistance. Ken used to have an apartment a job, and what most of us would consider a stable life. However, Ken developed cataracts and began to go blind. Over the course of a year, he lost everything–his job, his health insurance, and his housing. Fourth Street Clinic was able to put Ken up in a motel, where he had been for three months.
Losing everything is difficult enough, and for Ken, living in a motel while blind had become unbearable. He says, "I had to figure out how go to the store to get food and do everything myself. It was pretty claustrophobic."
Ken's emotional wellbeing suffered. He was in constant fear for his safety, so much so that he was on the verge of contemplating something drastic. But instead, he called 911, this is when The INN Between was contacted to help Ken. Fortunately, we had a bed open, and they brought Ken to his new home. Like opaque clouds, his eyes were crying for help.
After arriving, Ken told us, "When I came to The INN Between, not being able to see, the people were all so nice. It's like everyone is here to help you, and that was a lot different than what I'd just gone through." Ken could only make out vague shapes, but he quickly learned how to get around the building and became very independent. He felt safe and his emotional outlook improved dramatically.
A week after moving in, Ken had his first eye surgery at Moran Eye Center. Describing the surgery, he said, "It's like they're filleting a fish, and you're watching it from the inside out." Our resident driver, Mark, was able to spend a great deal of time with Ken and was with him when the doctors removed his bandage. Ken had been told that it could be hours before he would be able to see, but he told us, "As soon as they opened my eye, I could see everything-clearly. I looked at Mark and I could see his white beard – it was the first time I'd seen what he looked like."
Mark commented, "Before we went into the doctor's office, Ken told me he needed a shave, and I said, 'you ought to see my beard' forgetting that he actually couldn't see it. I felt bad about saying that. So, when Ken looked at me and said, 'Wow, I can see your long white beard and that you're wearing a camouflage Ute ballcap,' I got teary-eyed out of joy."
With sight in one eye, Ken started spending more time engaging with the other residents and helping around our home wherever he saw a need. It was not rare to see Ken taking the trash out a few times a day.
Unfortunately, his second eye surgery did not yield the same immediate results, and he felt the setback keenly. Later, he had a follow up procedure that was successful!
Ken told me, "I am very grateful to Fourth Street Clinic and The INN Between."
Today, Ken's eyes are bright and clear, and he has a very positive outlook. He says, "I left my job on very good terms, and I hope to go back as their season starts up in the spring."
With a new lease on life, Ken was moved from our home back into the community where he could begin to rebuild his life. Ken was a wonderful addition to our home. These are the success stories that motivate to keep serving those in need.
The INN Between was honored to be a part of Ken's story of health and healing.
To see more about Ken's life and how Fourth Street Clinic played a critical role in Ken's success. Click Here.