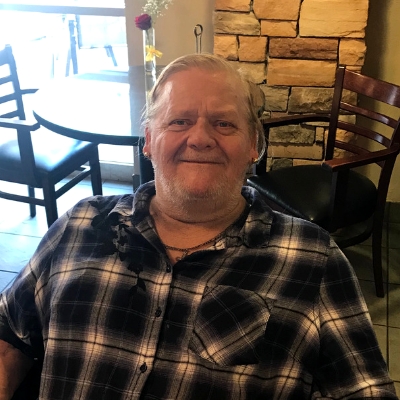 Glen Jones, born December 10th, 1954 in Kansas, passed away February 20, 2019 in Salt Lake City, Utah. Glen leaves behind a son, Zachary, and a grandson.
Glen Jones arrived at The INN Between September 26, 2016. He had been living in some bushes downtown and had decided to discontinue his dialysis, ready to spend his final days with us. After several weeks settling into his new home he had a change of heart and returned to the VA to restart his treatment. This became a pattern for Glen, he would grow weary of his daily dialysis and constant hospital stays and would initiate conversations about his wishes for the end of his life. But time after time, his passion for life and the friends he was surrounded by would pull him back into a fight for more time.
Glenn was our first transgender resident at The INN Between. He arrived as Glenn but quickly became Ms. Glenne Jones. He loved fashion and often we were greeted with questions about what a wedge shoe was or if a certain purse was "too young" for her. Her first pair of skinny jeans was a huge thrill and you could catch her in them most days. She loved to shop, loved makeup and shoes. Glenne was fortunate to have a team of volunteers that enjoyed helping with hair and makeup.
Glenne suffered from not only kidney failure but also heart failure and diabetes. She once suffered a heart attack in Wendover, was life flighted to the UofU and immediately walked home because "If I die, I am going to do so at home." Glenne had several toes and a portion of his foot amputated and the last year was a constant battle to keep his leg. Glenne returned to the VA a couple of weeks ago for some heart issues. Sadly we lost Glenne the day she was being released from the VA Hospital, before she could make it back home.
Glenne proudly served in the Navy, cherishing her time in Hawaii and Alaska in particular. She loved poker and barbecue. She was an avid Kansas City Chiefs fan. Glenne will be remembered for her laugh, a great sense of humor and mischievous manner. She loved to scare people and was a staple at our Spook Alley on Halloween. Glenne will be missed dearly. Her laugh will echo in the hearts of those who knew her best.
A celebration of life will be held at The INN Between, 1216 E 1300 S Salt Lake City, UT on Saturday, March 2nd at 12:00PM. Lunch will be served following the service.