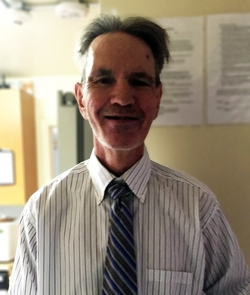 Photograph taken by Matilda Lindgren
Troy Dean Rich died peacefully in his bed at The INN Between on June 19, 2016 at the age of 53. Troy was born to Orvan Rich and Violet Harget Dean on March 11, 1963
Troy was born in Murray, Utah and attended Murray High School. He spent most of his life in Utah, having briefly lived in in California and Colorado. Troy is survived by his brothers James, Darrell and Arvin and sisters Mary and Annette as well as many nieces and nephews.
Before coming to The INN Between, Troy was a longtime resident at Valley Mental Health Storefront/Safe Haven. He will be missed by the residents - he was so gentle with all of them and never treated anyone unkindly. He spent his days there going from apartment to apartment wanting to visit with the residents because he loved the company.
Troy will be dearly missed by his close friends Joyce Owen, Brian Law and Kim Russo who spent many years caring for him, as well as his surrogate family at The INN Between who got to know him well and cherish the 3 ½ months spent with him.
When Troy moved to The INN Between in March, he truly found his peace and blossomed, evolving in to a person that had a plan and goals that would enhance his life. Troy enjoyed gardening in The INN Between's gardens and fishing along the banks of the Jordan River. He spent a great deal of time planning what he wanted to grow in the INN Between's gardens and mapping out the plot. He loved being surrounded by people and his sense of humor and stories will be greatly missed.
Troy was displaced as a young teen due to his alcohol abuse. He was a regular in Mental Health Court. He often felt lost and alone. At The INN Between, he found a purpose and felt a true sense of pride and dignity. He made his final court appearance the Tuesday before he died and received applause for his accomplishments as he left the judicial system.
We'd like to thank Hearts for Hospice for providing outstanding hospice care, and Mental Health Court, especially Judge Ann Boyden and District Attorneys Heather McGinlet and Tamer Hansen Burden, for their part in managing Troy's case.
The public is invited to attend a memorial service for Troy on Friday, June 24th, 2016, 2:00 pm, at The INN Between, 340 S. Goshen (1040 West), Salt Lake City, Utah. Light refreshments will be served following the service.